As wrote in my book Feathers of Hope, if the road to Hell is paved with good intentions, the road to Paradise isn't paved at all.  That's also true of the road to getting published.  It's not paved, and there are very few signs. 
My journey on that road started when I had a six month old son.  The winter was long and cold, and because I was housebound and ran out of books, I decided to write one.  It was a detective novel, and after I wrote it, in those pre-internet days, I went to the bookstore and got a book of agents, and sent it out to some of them.
One of them took it on, but she never sold it. I lacked confidence and didn't know how to appropriately nudge her.  That had a lot to do with the results.  I let it drop.  So did she. 
Years passed, and I wrote another book, got another agent who didn't sell what I wrote, got divorced, and had some interesting dates I'd rather not talk about.  After writing a really complicated 500 page epic novel over the course of a long weekend, I decided to relax by going back to a short detective piece.  I pulled out my old manuscript, made it dark and edgy, set it in the future and made my people empaths and telepaths. My main character became a woman named Jaguar Addams, who rehabbed criminals by making them face their deepest fears.  This story, and all those that followed, were over 40 pages long and so totally unsellable.
Hmm.  What next? I sent the stories out to magazines and got rejected.  Repeatedly.  At around the same time someone I knew invited me to a science fiction convention, and I went. This may seem totally unrelated, but in fact, it's crucial, and let that be a lesson to you. As a writer you should always be prepared to do the illogical.
An important editor was at that convention, and my companion and I bought her a drink.  Or two.  Or more.  Another lesson:  If you meet an editor, never shove your manuscript at them.  Always say, "Can I buy you a drink?"
As we drank I mentioned what I was writing, and she was interested.  When I got home I sent her some Jaguar Addams' stories.  She wasn't buying short story collections but she asked me to let her know when I had a novel using Jaguar, a woman she liked a lot.
At the time my second marriage was falling apart.  I was in school, working full time, and my son was ten years old. I had no time to write a novel.  So for two weeks I gave up sleeping and turned a short story into a novel. For reasons I still can't explain, I used the third short story instead of the first, and they liked it, but wanted the first one first.  Of course they did.  Which meant I slept even less, and wrote that one, too.  
And that book, The Fear Principle, about Jaguar Addams' case with hitwoman Clare Rilasco, was my first sale. 
 Just this month I published the fifth novel in that series, The Green Memory of Fear, so I count all those sleepless nights well spent.  And my advice for writers  -  do what's necessary, whether you can do it or not. 
***
About B.A. Chepaitis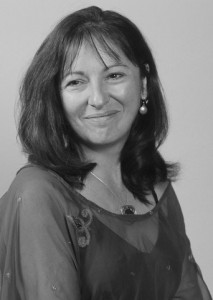 BARBARA CHEPAITIS is author of 8 published novels, including the critically acclaimed Feeding Christine and These Dreams, as well as the sci-fi series featuring Jaguar Addams. The fourth novel in that series, A Lunatic Fear was a nominee for a Romantic Times Bookclub award.
Her scripts have placed semifinalist with Niccholl's Fellowship and finalist with Sundance Screenwriter's award.
She is founder and director of the storytelling trio The Snickering Witches, host of WAMC Writer's Forum, a Teaching Artist with the Lincoln Center-based Aesthetic education program, and concentration direction in fiction at Western State College of Colorado's graduate program in creative writing.
You can visit her website at Wild Reads and her blog at M&C Literary Lunch