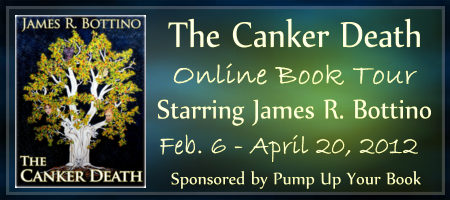 Join James Bottino, author of the fantasy and science fiction novel The Canker Death as he virtually tours the blogosphere in February 2012 on his first tour with Pump Up Your Book!
About James Bottino
James R. Bottino's life-long interests mix esoteric and disparate fields of study. By day, his foremost influences have been the study of literature and the art of writing. Following these pursuits led him to read anything he could in these areas and to complete every under-graduate and graduate course available to him in the field of creative writing. Following this line, he taught high school English throughout the 1990's, focusing on the teaching of writing.
By night, when no one was looking, he studied computer systems / networks, computer languages, and operating systems, learning anything he could in these areas, first as a hobby, and, finally, as a career. This mixture of literature and technology served as the inspiration for the The Canker Death's protagonist, Petor.
James currently lives in a suburb of Chicago, with his wife, daughter, two Australian cattle dogs and far, far too many books and abstruse computers.
You can visit his website at TheCankerDeath.com
About The Canker Death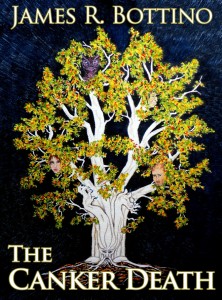 When the reclusive, cynical systems administrator, Petor Fidelistro, discovers that one of his own servers has been cracked late one night, he makes it his personal business to track down the perpetrator. What his search uncovers thrusts him, unaware, into a mad shifting between worlds, time and alien minds.
Fighting to keep his grip on reality, and forcing him to cope with his past, Petor finds himself uncontrollably transitioning between sentient minds that range from semi-conscious to dominant, from beings whose bodies and identities he can control, to those who control him so fully as to be unaware of his presence.
As the story unfolds, Petor gathers clues in a twisting mystery that sends him shifting between the mourning child Nanzicwital; the golem giant Faskin; the lascivious, female ambassador Desidia; and Nokinis, an insane prisoner with whom Petor battles for mastery of his own memories. As he struggles to make sense of what is happening to him, Petor finds himself embroiled in the tumultuous upheaval of a ubiquitous society that transcends life, itself.
What Reviewers Are Saying
5.0 out of 5 stars Cliffhanger after cliffhanger! I couldn't put it down!, September 3, 2011

This review is from: The Canker Death (Kindle Edition)

The Canker Death by James R. Bottino is a mystery, a spiritual awakening, a suspenseful and funny book with complex characters and worlds. This book reminds me a bit of Roger Zelazny's Chronicles of Amber series and also reminds me that good ideas are still out there amidst the plethora of over-worked, tired concepts prevalent in our world today.

How did the author slip in symbolism and deep themes all the while entertaining us with the "full monty" of sex, drugs, rock 'n roll and stuff that explodes? I'm not sure, but by the time I'd finished The Canker Death, it made me laugh, cry, hang on by the seat of my pants, and shout "SEQUEL!!!" (although the book does stand well on its own.)

Also, while reading, I found the Vitruvian Man map full of symbols, character names and concepts to be a provocative and neat little extra feature. I highly recommend this original tome!
- Amazon Reviewer RIBH
The Canker Death Tour Schedule
Monday, February 6
Interview at Book Marketing Buzz
Tuesday, February 7
Guest Post at As the Pages Turn
Wednesday, February 8
Interview at Pump Up Your Book
Thursday, February 9
Guest Post at The Book Connection
Friday, February 10
Interview at Paperback Writer
Monday, February 13
Guest Post at Literarily Speaking
Tuesday, February 14
Guest Post at The Story Behind the Book
Thursday, February 16
Spotlight at The Plot
Friday, February 17
Character Interview at The Plot
Monday, February 20
Interview at Beyond the Books
Tuesday, February 21
Interview at The Writer's Life
Wednesday, February 22
Spotlight at Celtic Lady's Book Reviews
Thursday, February 23
Review at Martha's Bookshelf
Friday, February 24
Guest Post at Everyday Adventure
Monday, February 27
Spotlight at Blurbs N' Bytes
Wednesday, February 29
Guest Post at InkyBlots
March Coming Soon!
James Bottino's THE CANKER DEATH ONLINE BOOK TOUR 2012 will officially begin February 6th and end March 23rd. Thank you for your support!