We have a special guest today!  Hollywood book publicist Charlie Barrett is on a virtual publicist tour all this month talking about book publicity and other book related matter.  It's interesting to note how book publicists first got started, don't you agree?  Charlie is here with us to tell us about his first book PR job.  Enjoy!
My First Book PR Job
by Hollywood book publicist Charlie Barrett
Right out of college in the late 1960s, I was lucky to get my very first PR job as a trainee publicist in New York City for 20th Century Fox Film Corporation.  Among my initial duties on my new job was learning how to publicize books from movies and musical soundtracks released by the studio.  Now, these were the days even before fax machines. Press releases were done on electric typewriters with carbon paper between the sheets to get a copy of what you were composing.  Looking back now it all kind of reminds me of my favorite TV series, "Mad Men" - - when women were asked to get coffee for their bosses and everyone, I mean everyone, smoked.  Quite ironically, my very first New York apartment was on Waverly Place in Greenwich Village - - the very same street in the "Mad Men" series where the show's protagonist Don Draper (played by actor Jon Hamm) resides in TV land.
Basically, to start out, I was a PR flea at Fox, or what is called a "go for."  I would assemble press kits, stuffing them with press releases and 8x10 black and white photo prints of scenes from such movies as "The Bible" which starred Charlton Heston and "Dr. Dolittle" with English actor Rex Harrison.  Those kits were distributed to Fox promo personnel and also given to film critics who had come to see advance screenings of the films before they were released in movie houses.
One task I was first assigned was to write a press release to accompany a soft cover book produced by Fox for the "Dr. Dolittle" movie, which included a short phone interview with the star Mr. Harrison, who was in town for the opening of the film on Broadway.  He gave me some good quotes on his role in the hit movie as I recall.  I remember him sipping his tea and talking very fast in a clipped, regal Brit accent.  The release got done after many edits by my boss and we sent it out.  My lil' press release immediately appeared in some NY papers including the column written by the famous New York newsman Earl Wilson.  My press release also got picked up in the renowned publishing trade magazine, "Publishers Weekly" too as I remember.  In fact I had the media clip copy from it for years, but lost in my move to Los Angeles years later.
Another assignment I got at my first PR job at Fox was to write a press release on the release of the vinyl LP soundtrack from "Dr. Dolittle" which featured Mr. Harrison singing the hit song "Talk to the Animals."  I interviewed the film's famed lyricist and music composer Leslie Bricusse for a press release and got even a few more quotes from Mr. Harrison, which he so politely sent over to me via messenger from his hotel room at the world famous Plaza Hotel.  "Talk to the Animals" sung by Harrison proved to be a hit on radio, played by DJs everywhere.  In that time, music from films such as "The Graduate," "Camelot" and others scored big with some select record buyers.  Hit songs from movie soundtracks helped to boost box office earnings…or so it was hoped.
Later I also worked to publicize the book on which the film was based (from author Jacqueline Susann) and also the album release at Fox for its hit movie - - "Valley of the Dolls" - - with Patty Duke and the late Sharon Tate (she was a lovely woman…soft spoken and a joy to work with).  Singer Dionne Warwick recorded the title song for the movie.  Ms Warwick came into our Fox publicity and ad department with her record producer one afternoon to have a meeting with the company marketing brass.  Ms. Susann was also present for that meeting to discuss the marketing strategy for tying in the book and the release of the title theme music from "Valley of the Dolls," written by composers Dory and Andre Previn.  It was decided at that meeting to hold a gala opening for "Dolls" in New York at a Times Square movie palace and pass out free copies of Ms. Susann's book to the first 250 theatre patrons.  All of the stars in "Valley of the Dolls" came to that opening night …there was Barbara Parkins,  Ms. Duke, Ms. Tate, Paul Burke, Lee Grant, Ms. Susann (she also played a reporter in the movie), Susan Hayward, Joey Bishop (later he became the TV late night host) and comic George Jessel.  Celebrity guests included Bette Davis and Joan Crawford too.  There were throngs of New York paparazzi lining the sidewalk in front of the theatre.  Afterwards there was a lavish, pull-out-all-the-stops posh party held at the Plaza.  I can still see Ms. Tate and her husband director Roman Polanski sitting in a booth off alone together and obviously so much in love.  Still working into the night, I was asked to drop off undeveloped rolls of Fox photographer film from the premiere that evening to the photo desks at the NY Times, NY Post and NY Daily News, while being driven around town in what turned out to be my very first ride in a limo.  It was a memorable evening for sure.  Ms Susann's book sales soared and soared again once "Valley of the Dolls" was released into theatres by Fox.
Today, this world is gone. There are no books or rarely even soundtrack music coming from movies anymore.  However, we do continue to see of course authors' published works as the genesis of many good movies that make it to the big screen like the recent productions of "Alice in Wonderland" with Johnny Depp and "Blindside" with Sandra Bullock.
It is hard for me now to ever imagine going back to work as a book PR person in the 1960s.  I have become a PR professional so deeply immersed in our era's electronic comforts - - from the Net and its social media activity to cell phones and all the rest.  The success or failure of a book in today's marketplace is so strongly tied to its exposure in the "cybersphere".  So when I look at a one hour edition of "Mad Men" (Mad Men was a term coined for Madison Avenue ad men in the 60s) it brings me back to my earliest days of my media career working in New York.  Maybe that is why I like that unique TV series so very, very much.  I am sure there is a book there somewhere, another story to be told.
Are you an author looking for book publicity?  Charlie Barrett knows the ins and outs of the book publishing industry with connections that will get your book into the right places.  Visit his website at www.thebarrettco.com or email him at info@thebarrettco.com.
We're having a Facebook party!!!!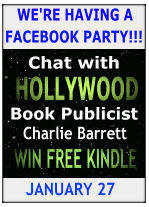 Pump Up Your Book will be hosting Hollywood book publicist Charlie Barrett Thursday, January 27, 2011 at 9 - 11 p.m. (eastern time - adust to your time zone) at Pump Up Your Book's Facebook page. Tell your book friends that not only will this give them an opportunity to chat with Charlie about book publicity BUT...
WE'RE GIVING AWAY A KINDLE ($189 VALUE)!!!!
CLICK HERE TO JOIN US!